Product Devloper
Greetings to All from Aspiration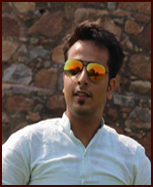 When I joined "Aspiration International", I was scared with the fact that weather I will be able to give my best or not for which I am getting appointed. I do belong from a creative filed but then also I was scared. Then as the time passes, every minute in Aspiration International taught me something new, which made me more excited to be a part of Aspiration Family.

Now things are totally different I am not at all scared working with Aspiration, I want to give a big thanks to our (C.E.O Mr. 'Padam.N.Kapoor' & my father Mr. 'Sachin Kapoor') for giving me the opportunities to learns things at "Aspiration". And my Uncle (Mr. 'Govind Kapoor'), who teach me the lessons on quality. It's an honor working with Aspiration International. They always ask me to remember those 10 principal of WFTO, while working.

Working on new products, getting new things made with client specification is my work with "Aspiration". So dream for a product that you want to see.

Best Wishes
Vinayak kapoor
PRODUCT DEVLOPER
Aspiration International