Home
» Message From C.E.O
Message from C.E.O
Warm greetings from Aspiration,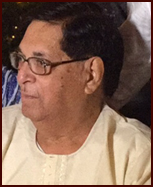 Aspiration International was formed with the efforts and knowledge I gathered while working for Cottage Industries. The purpose of Aspiration was to uplift and highlight the artisans in the interiors of North India. This allows them to share knowledge and skills to cultivate themselves with enthusiasm and direction, to initiate their own units and become independent, where the artisans can grow their income and support their families.

We have been associated with few organizations that have been associated with WFTO and are BAFTS members. We have a long association with Shared Earth, Trade-Aid Importers and Oxfam Worldwide. We have been in business since 1993 and have catered to Fair-trade associated companies. We started as Aspiration India in 1981 and since then have been associated with Oxfam Australia, Trading partners in Australia, Bridgehead - Canada and SEERV International USA.

We understand that we can share certain ideas which can be developed, and gives us potential to work for the same cause together. Our innovative producers can customize products as and when desired in future. For instance, I would like to share that our latest venture with 'Pucket' - UK has given us the opportunity to develop a game which now become a craze in UK

We assist small producer groups in making rich Indian handicrafts in century old traditional way. Now, we have established ourselves as a helping arm, for these small producer groups. We wish to be associated with like-minded organizations so that more work can be generated for these groups. With the help of designers associated with our buyers and several Master-crafts persons - recognized and awarded by government of India, we at Aspiration are closely working with them in creating new designs.
Best Wishes
Padam N Kapoor
Chief Executive Officer
Aspiration International